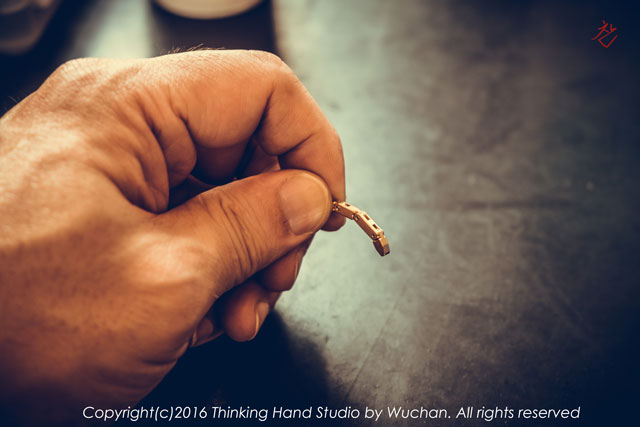 Below is a finger of a tiny hand armature I made last year for one studio in the UK. I used H-shaped parts for this armature. This H-shaped part is the thinnest one I've ever made. Its edges are less than 1 mm thin.
지난 포스트에서 손톱 위에 놓인 H 모양의 작은 부품을 보여드린 적이 있습니다. 위 사진은 그 부품을 조립한 사진입니다. 작년에 영국의 한 스튜디오의 의뢰로 작업한 작은 손 뼈대에 들어가는 손가락 부분이죠. 이 뼈대에서 가장 얇은 부분의 두께는 1mm도 채 되지 않습니다.
대개 이렇게 작은 경첩관절은 얇은 금속판을 두 개 잘라 서로 단순하게 겹쳐지도록 만듭니다. 그렇지만 저는 부품끼리 정교하게 결합되도록 디자인을 한 다음, 엔드밀로 필요한 부품 하나하나의 형상을 가공합니다. 그렇게 만들어진 부품을 조립하면 위와 같은 사진의 뼈대가 나오는 겁니다.
2000년대 초는 한참 제 스타일의 뼈대를 테스트하던 시기였습니다. 솔직히 그 당시만 해도 이런 작은 사이즈는 엄두를 내지 못 했습니다. 작은 뼈대일수록 제작 난이도가 굉장히 높아지기 때문입니다.
한 번은 미국의 한 스튜디오에서 총 길이 10센티 정도의 관절뼈대를 주문받은 적이 있습니다. 한 달 정도 작업하다가 도저히 그 쪽에서 원하는 두께를 정확히 맞출 수 없어서 포기했었죠. 주문한 스튜디오에게 미안하기도 하고 자존심도 많이 상해서 그 동안 작업한 뼈대를 전부 무료로 미국에 보냈습니다. 그리고 약 1년간 작고 얇은 뼈대만 테스트했었죠.
그때 이후로 꽤 오랜 시간이 흘렀습니다. 저는 위 사진을 볼 때마다 여러 가지 생각이 듭니다. 참으로 나도 이 업계에서 오래 버티고 있구나라는 생각, 그리고 더 이상 못 만들 뼈대가 없겠구나 하는 생각 등등 말이죠. ㅎㅎ
http://thinkinghand.co.kr/wp-content/uploads/2017/08/김우찬감독_관절뼈대armature201603.jpg
427
640
우찬
http://thinkinghand.co.kr/wp-content/uploads/2022/07/LOGO202203.png
우찬
2017-08-19 16:35:38
2022-02-19 05:59:26
손가락 관절뼈대 테스트 버전