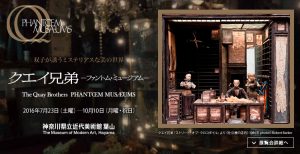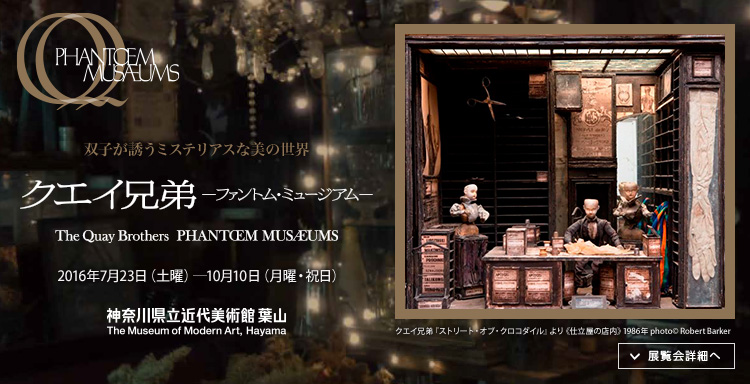 작년에 퀘이 형제의 첫 일본 전시 오프닝에 초청을 받아 도쿄 근교에 위치한 하야마 현대미술관을 방문했습니다. 당시의 오프닝 참석 후기는 아래 포스트에서 읽어보실 수 있습니다. 올해에도 도쿄에서 열리는 동일한 전시를 방문할 기회가 있어 다녀왔습니다. 이 전시는 일본을 약 일 년 정도 더 순회할 예정이라고 합니다.
The Museum of Modern Art, Hayama in Japan is hosting an exhibition titled "PHANTŒM MUSÆMS" by the Quay Brothers from July 23 to October 10, 2016. The exhibition will travel around the country for two years, and Hayama is the starting point of its journey.
The other day the Quays and I were communicating for work, and they told me just before the exhibition opening that they were coming to Japan. To Japan?! It's right next to where I live, South Korea! Hurray! After going through a challenging seven months, I'd just completed armatures for their next film, and now it was time to see the Brothers Quay again.
And not only that; there was the exhibition as well. I had always thought it was too bad that I missed their exhibitions at the MoMA New York and the EYE Film Institute Netherlands. I could never miss the chance this time. So my wife and I went to Japan for our summer vacation! 😉 The Quays thankfully invited us to the opening at the MoMA Hayama.
I most recently met the Quays in the winter of 2012. I remember that the Brothers and I had an amazing time together back then, drinking wine and chatting at their studio in London. With full of expectations and excitements for seeing old friends and the exhibition as well as being on vacation, my wife and I set foot on Japanese soil. Read more
http://thinkinghand.co.kr/wp-content/uploads/2016/08/QuayBrothers_Hayama_japan.jpg
400
495
우찬
http://thinkinghand.co.kr/wp-content/uploads/2022/07/LOGO202203.png
우찬
2016-08-22 21:12:33
2022-02-19 06:33:34
PHANTŒM MUSÆUMS BY The QUAY BROTHERS